The term cafe au lait simply means coffee with milk in French, but in New Orleans it means so much more. It's a way of life here – a sip of New Orleans history that we enjoy anytime from breakfast to after dinner to late at night. And while cafe au lait's cousin, the latte, is made with a relatively small portion of espresso coffee and large amounts of frothy, foamy steamed milk, the cafe au lait is traditionally an exact 50-50 blend of drip-brewed coffee and plain heated milk (not boiled!).
It's always chicory in our cafe au lait
While any brewed coffee can be used to make cafe au lait, in New Orleans it's traditionally made using coffee blended with chicory – that aromatic, nutty and mildly bitter-tasting root of a blue-flowered plant that is ground, roasted and added to dark- or medium-roast coffee. Called "Creole coffee" in the 19th and early 20th centuries, cafe au lait made with a coffee and chicory blend was widely consumed in New Orleans during the Civil War after the Union Army blockaded the city's port, forcing households and restaurants to ration their coffee. What started as a necessary adaptation due to scarcity soon became a tradition that New Orleans is still known for today.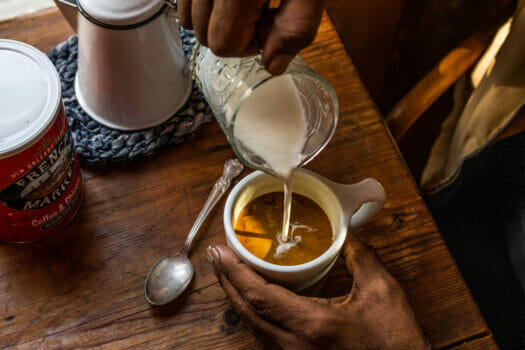 An order of beignets and a cafe au lait, s'il vous plait!
In the old-school coffee and beignet stands of New Orleans (beignets are New Orleans style fried doughnuts topped with powdered sugar) such as Cafe du Monde and Morning Call, they've been making cafe au lait the same way since the 1800s. When a cafe au lait is ordered, the waiter sets out a thick, crockery style coffee cup, pours it half full with hot brewed coffee and chicory, and fills the remaining half with hot (never boiled!) milk. 
A few swirls and bubbles, et voila!
The resulting drink is light brown in color and steaming hot, with a few swirls and bubbles but no foam. The coffee is always extra strong and dark, and the waiters keep the milk continuously on low heat, often in metal pitchers with handles and spigots that are placed on burners or electric hot plates. It's the way New Orleanians most enjoy cafe au lait, and how they will surely continue to enjoy it for generations to come.